ASTROLOGY CHART OF CHINA 
ASTROLOGY CHART OF INDIA REPUBLIC 1950
ASTROLOGY CHART OF INDIA INDEPENDENCE 1947
The Solar Eclipse of June 21, 2020 will be at 00 Cancer.   The path of the Solar Eclipse will go over parts of Eastern Africa, Pakistan, India, and China.
Astrology Chart of India's Independence has Mars at 00 Cancer, India's chart of the Republic has Uranus at 01 Cancer.    
The pathway of the Solar Eclipse will Conjunct both the astrology charts of the Republic and Independence.
Mars is the planet of War, conflict, and winning at all costs.  Uranus is unexpected and unusual events which carry a huge impact together with permanent change
The Astrology Chart of China has Uranus at 4 Cancer and the ASC at 3 Aquarius which will create a conjunction and an Inconjunct.
The armies of the world's two most populous nations are locked in a tense face-off high in the Himalayas, which has the potential to escalate as they seek to further their strategic goals.  A military standoff took place on the border of this strategically economic area of land between India and China.
The military superpowers have been arguing for decades over territory in the high-altitude, largely uninhabited region.
The confrontation came after tensions bubbled up in recent months over a new road India built in Ladakh, along the Line of Actual Control which divides the sides.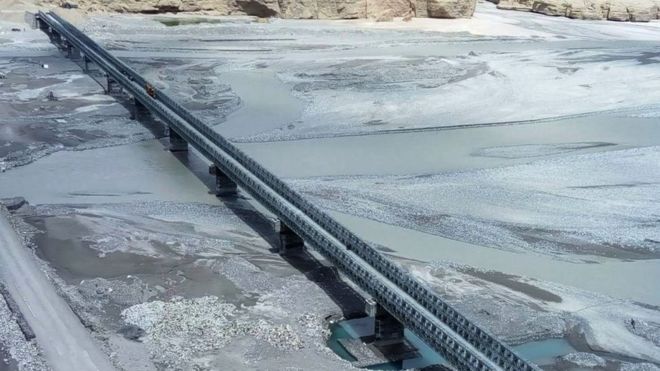 That angered China, which deployed troops and built the infrastructure of its own in disputed territory, bringing the two sides' forces in closer proximity and heightening the risk of clashes.
The soldiers are fighting high in the Himalayans where the temperatures are bitter cold, and the weapons are bats covered with barbed wire and nails.   This is the area where it is reported that 20 Indians were killed.   China has not released any reports of casualities at this time.  Apparently, China has been bringing up large equipment to the area.
Both countries are in talks right now, and if the talks do not lead to an understanding, it may be a very difficult situation.  Not only are these countries two of the most populous nations,  but both have nuclear weapons and a history of being passionate over land.    China's chart also has a powerful conjunction of Pluto-Mars, which is the most warlike planetary combination of all.
We will have to be patient and trust that this will resolve itself peacefully.